Washington, DC, January 31, 2018 – The Washington Oxi Day Foundation is proud to announce that our 2017 Oxi Courage Award recipient Ji Seong-ho was one of the few to be recognized by the President last night before a joint session of Congress and a national audience at this year's State of the Union address. According to preliminary broadcast numbers, the speech drew nearly 20 million viewers across television networks.
To see a video of this portion of the State of the Union address, please click here.
As The New York Times reported, "When President Trump wanted to highlight the brutality of North Korea's government during his State of the Union address on Tuesday, he pointed to a man in the audience who had traveled thousands of miles on crutches to find freedom. The story that man, Ji Seong-ho, tells of his escape is remarkable even by the standards of North Korean defectors. When Mr. Trump pointed him out, Mr. Ji jubilantly raised his crutches as television cameras captured the moment."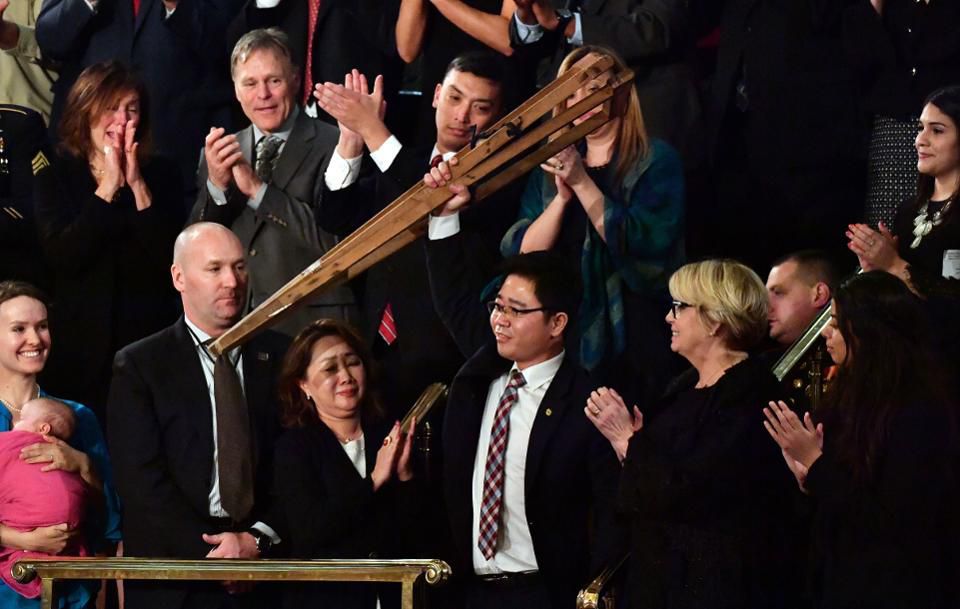 The President said:
"Finally, we are joined by one more witness to the ominous nature of this regime [North Korea]. His name is Mr. Ji Seong-ho.
In 1996, Seong-ho was a starving boy in North Korea. One day, he tried to steal coal from a railroad car to barter for a few scraps of food, which was very hard to get. In the process, he passed out on the train tracks, exhausted from hunger. He woke up as a train ran over his limbs. He then endured multiple amputations without anything to dull the pain or the hurt. His brother and sister gave what little food they had to help him recover and ate dirt themselves — permanently stunting their own growth. Later, he was tortured by North Korean authorities after returning from a brief visit to China. His tormentors wanted to know if he had met any Christians. He had — and he resolved after that to be free.
Seong-ho traveled thousands of miles on crutches all across China and Southeast Asia to freedom. Most of his family followed. His father was caught trying to escape and was tortured to death.
Today he lives in Seoul, where he rescues other defectors, and broadcasts into North Korea what the regime fears the most — the truth.
Today he has a new leg, but Seong-ho, I understand you still keep those old crutches as a reminder of how far you have come. Your great sacrifice is an inspiration to us all. Please. Thank you.
Seong-ho's story is a testament to the yearning of every human soul to live in freedom."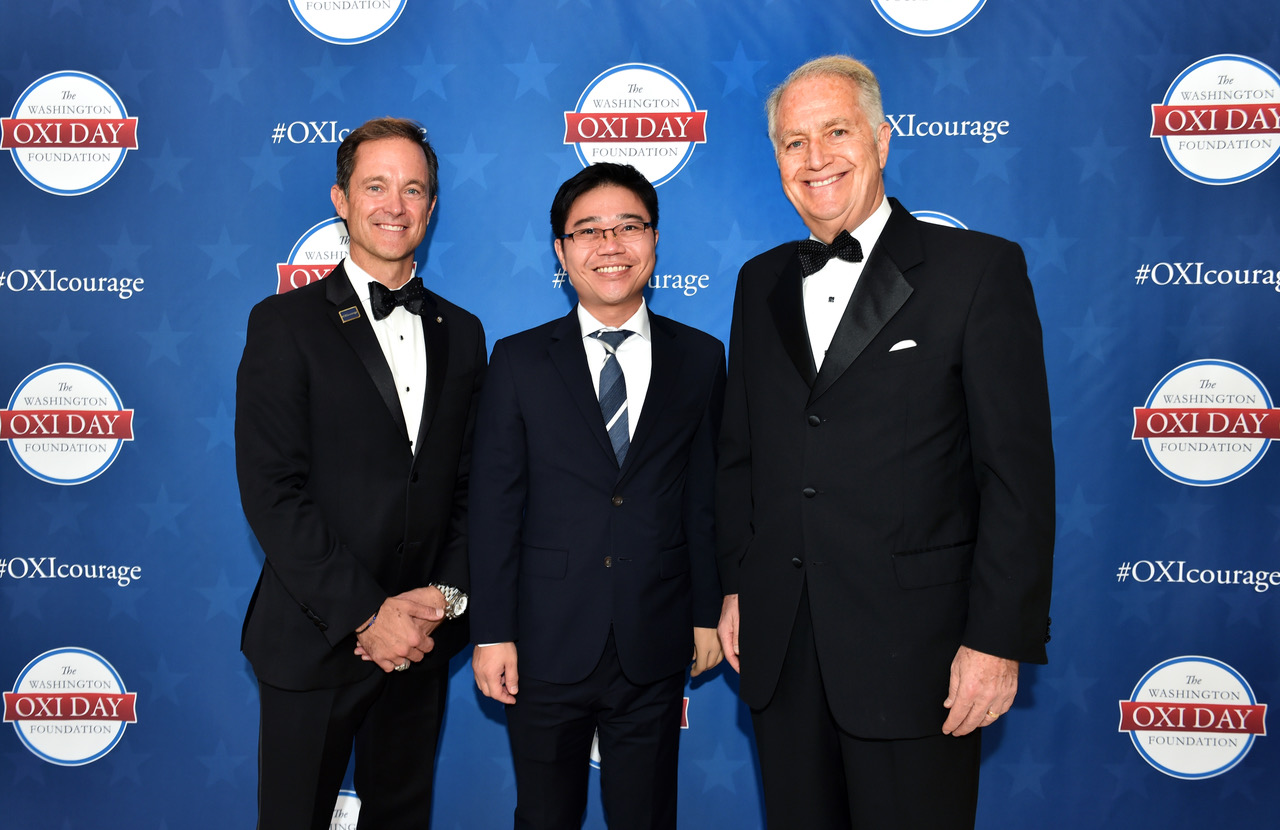 This is the latest recognition for one of the Foundation's remarkable honorees working to preserve and protect humanity across the globe. Other recipients of the Oxi Courage Award have included:
· In 2016, Vice President Joseph R. Biden and his son Beau Biden (posthumously) and escaped ISIS sex slave and UN Goodwill Ambassador Nadia Murad, nominated by Amal Clooney;
· In 2015, Bono selected for our Foundation and introduced Leyla Yunus, a leading human rights activist imprisoned in Azerbaijan;
· In 2014, just weeks after he became the first American brutally and publicly executed by ISIS, conflict journalist James Foley was honored. President Bill Clinton introduced Foley and his parents accepted the award;
· In 2013, Bono selected for our Foundation and introduced John Githongo, a journalist who risked his life fighting corruption in Kenya;
· In 2012, blind Chinese human rights activist Chen Guangcheng, whose US-aided escape from China led the world news in the spring of 2012