THE OXI DAY AWARD
James Foley
For his courageous action to promote freedom and democracy
As a journalist and video reporter, James Foley dedicated the majority of his lifetime to exposing the suffering of oppressed peoples around the world. Foley served as a conflict journalist in Iraq in 2009 embedded with US troops, in Afghanistan in 2011, and then in Libya where he was embedded with rebel forces in an effort to educate the public about the uprising against Muammar Gaddafi. Foley was captured by forces allied with Gaddafi, who killed a reporter with Foley during the capture. He was held captive for 44 days. However, Foley's hardships did not deter him from continuing to report from conflict areas. In January of 2012, he began reporting from Syria on the Syrian Civil War. On November 22, 2012, Foley was captured by ISIS forces. After 21 months in captivity, Foley became the first American killed by ISIS forces in response to American airstrikes in Iraq. He is being honored with this award for the courage he showed—in the spirit of Oxi Day—through exposing the unacceptable atrocities committed abroad, and consequently, promoting democratic values.
Watch Video of Foley Oxi Day Award »
THE OXI DAY BATTLE OF CRETE AWARD
Ruslana Lyzhychko
For her courageous action to promote freedom and democracy
Ruslana Lyzhychko, known as "the soul of Ukraine's revolution," is a former member of the Ukrainian Parliament, a World Music Award and Eurovision Song Contest winning artist, and was named one of the 10 most influential women in the world in 2013 by Forbes Magazine. As a leader of the pro-European Union protests known as Euromaidan, Ruslana has dedicated countless hours to giving speeches, singing the Ukrainian national anthem, and enduring retaliation from riot police forces, all aimed at encouraging support for justice. Various death threats have not deterred Ruslana from meeting with key European and American politicians asking for support for the Ukraine. For her extraordinary bravery, commitment and dedication, Ruslana has received several awards. She was one of 10 women to receive the 2014 US Secretary of State's Women of Courage Award. She has also received the Atlantic Council's Distinguished Humanitarian Leadership Award and the International Republican Institute's Freedom Award. Ruslana is being honored with this award for the courage she displays, like that of the women in the Battle of Crete, to bring justice and freedom to her country.
Watch Video of Ruslana Battle of Crete Award »
THE METROPOLITAN CHRYSOSTOMOS AWARD
Shimon Peres
Recognizing his lifelong contribution to combating anti-Semitism, discrimination and intolerance.
Shimon Peres, the only person to serve as both Prime Minister and President of the Jewish State, is one of Israel's most prominent and distinguished politicians serving Israel for over 70 years. Before becoming president in 2007, Peres served in many other offices, including the Minister of Foreign Affairs, during which he facilitated the peace agreement between Israel and Palestine known as the Oslo Accords, earning him the 1994 Noble Peace Prize. He continued these peace efforts through his term as president by promoting relations with additional Arab countries in North Africa and the Persian Gulf. In 2012, President Barack Obama awarded Peres with the Presidential Medal of Freedom, the United States' highest civilian honor, for his efforts in promoting world peace. In 2014, he received the Congressional Gold Medal, the highest civilian award the US Congress can bestow. Peres is being honored with this award for the great commitment he has shown, like that of Metropolitan Chrysostomos, to combat violence, discrimination, and intolerance in the Middle East.
Watch Video of Peres Metropolitan Chrysostomos Award »
THE GREATEST GENERATION AWARD
The Honorable Ralph Hall

Honoring an American Veteran who served valiantly in World War II
Congressman Ralph M. Hall, the oldest member of Congress, is one of only two remaining members of Congress who served in World War II. Congressman Hall joined the U.S. Navy in 1942, and attained the rank of lieutenant aircraft carrier pilot. Congressman Hall left the U.S. Navy in 1945, but his service to his country did not stop. Once he returned to his home state of Texas, the Congressman held several local and state level positions until he was elected to the U.S. House of Representatives in 1980. He has been proudly serving Texas' 4th District for the last 34 years.
THE GREATEST GENERATION AWARD
Staff Sergeant Sam J. Bouras
Honoring a Greek-American Veteran who served valiantly in World War II
Sam's brother, Nick, fondly recalled that everyone who met Sam loved him. As a Staff Sergeant in the 422nd Regiment of the 106th Army Infantry Division, Sam Bouras spent the beginning of his military career stationed in Fort Jackson, South Carolina. In December 1944, Sergeant Bouras was sent overseas to fight in the Battle of the Bulge, where he was captured and held as a Prisoner of War. In March 1945, Sergeant Bouras tragically died in German captivity. He was laid to rest in Golden Gate National Military Cemetery, near San Francisco, California. At the young age of 25, Sergeant Bouras gave the ultimate sacrifice for his country.
THE GREATEST GENERATION AWARD
Major Nicholas J. Bouras
Honoring a Greek-American Veteran who served valiantly in World War II
Nicholas J. Bouras enlisted in the U.S. Army Air Corps in 1942. By the end of 1945, he had attained the rank of Major, had flown forty-four combat missions in the European theater as the lead bombardier/navigator in B-26 and A-26 bombers, and was awarded the Distinguished Flying Cross, eight Air Medals and five Battle Stars. After his discharge from the service, he returned to his work in the steel industry. He received numerous awards for his philanthropic and humanitarian work.
Bouras was a devout Orthodox Christian who served the Greek Orthodox Church of America in many ways including as a member of the Archdiocesan Council and as an Archon of the Ecumenical Patriarchate. Mr. Bouras and his late wife, Anna, built Bouras Industries, a highly regarded steel fabrication company in the commercial real estate industry that consisted of five manufacturing operations in four states with more than 600 employees.
THE GREATEST GENERATION AWARD
Admiral Ioannis Toumbas
Honoring a Greek Veteran who served valiantly in World War II
Admiral Ioannis Toumbas, an esteemed Greek naval officer, served in the exiled Greek Armed Forces after fleeing his home country during the German Invasion of Greece in April 1941. During World War II, he assumed command of a destroyer vessel, the Adrias, that was responsible for many successful missions throughout the Mediterranean including sinking several German U-boats. On October 22, 1943, during the naval operations of the Dodecanese Campaign, Toumbas demonstrated tremendous valor when the Adrias struck a sea mine and lost her entire bow. After makeshift repairs, Toumbas led the ship back to Egypt arriving at Alexandria on December 6th. At the end of his military career, Ioannis served as a Naval Attaché in Washington, D.C., while also being promoted to Vice Admiral. When he returned to Greece in 1955, he became heavily involved in Greek politics and served as a member of Parliament. Later in his career, he served as the Minister for the Interior, the Minister for Public Works, and the Minister for Foreign Affairs.
THE STAVROS NIARCHOS FOUNDATION PHILOTIMO AWARD
Mobile Medical Units Team
For extraordinary acts of true philotimo
In January 2014, as a result of the Stavros Niarchos Foundation's extensive support under the €100 million initiative against the socioeconomic crisis, the Olympic Village Polyclinic launched two state-of-the-art Mobile Medical Units, as part of the National Primary Healthcare Program. The Program offers the residents of remote islands in Greece the opportunity to receive comprehensive, high quality, medical care and support, as well as preventive care services completely free of charge, by volunteer doctors of all specialties and qualified scientific personnel. The two Mobile Medical Units (pictured) offer the general public access to a number of specialists. In addition, the Units have the technical capability to allow for special procedures, as they are both equipped with a digital mammography unit, a portable X-ray machine, and a bone density scanner. In addition, the teams have made numerous educational presentations to thousands of citizens and students, on issues such as healthy nutrition, smoking, early diagnosis of learning disabilities, sex education, career counseling and first aid training.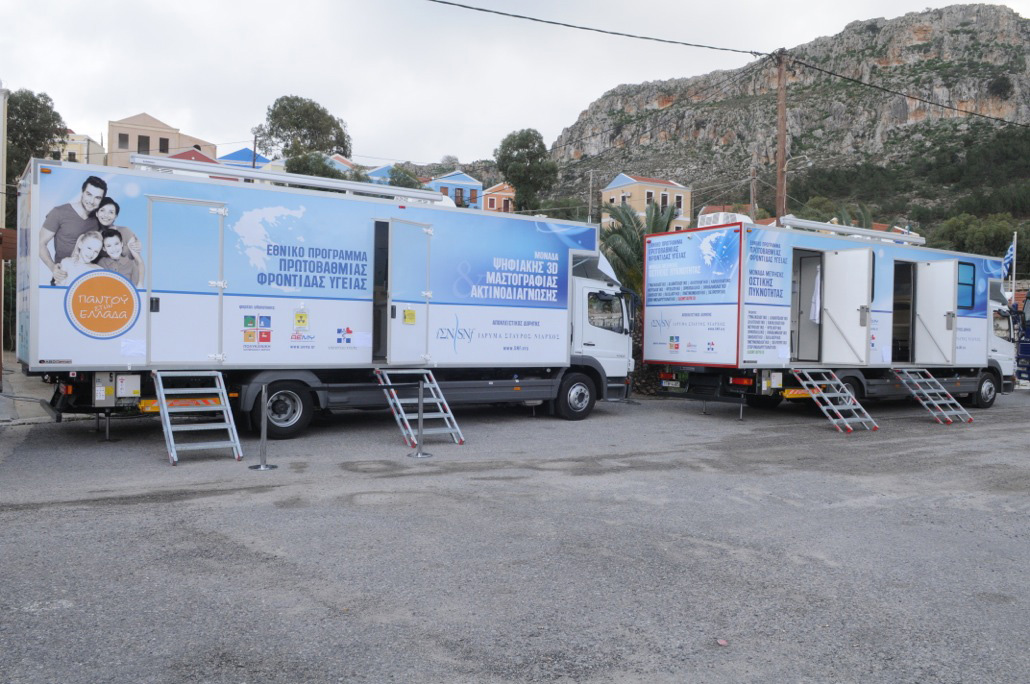 All the doctors and scientific personnel participating in the program are volunteers, an important gesture in a country under severe socioeconomic strain. Their efforts are representative of some of the reasons Greece has been able to maintain its social cohesion under such extraordinary circumstances.
In charge of the Program's design and implementation is Dr. Panagiotis Koulouvaris, Head Lecturer at the University Orthopaedic Clinic and Scientific Coordinator of the Olympic Village Polyclinic Orthopaedic Department. Following the successful implementation of the National Primary Healthcare Program, the SNF invited Dr. Koulouvaris to join the Foundation, as an Advisor to the Board of Directors.
Andreas C. Dracopoulos, Co-President of the Board of Directors of the Stavros Niarchos Foundation, stated: "We are extremely pleased with the implementation and progress of this most important and innovative initiative. The program is increasingly vital during this period of severe socioeconomic crisis, which has had a negative impact of critical consequences upon Greece's health sector and services. Providing comprehensive and basic health services for the public, and educating people about their health is a fundamental right, integral to people's fortitude, productivity, and prosperity, as well as to their community and country."
Watch Video of Stavros Niarchos Foundation Philotimo Award »
Watch Video of Mobile Medical Units in Greece »